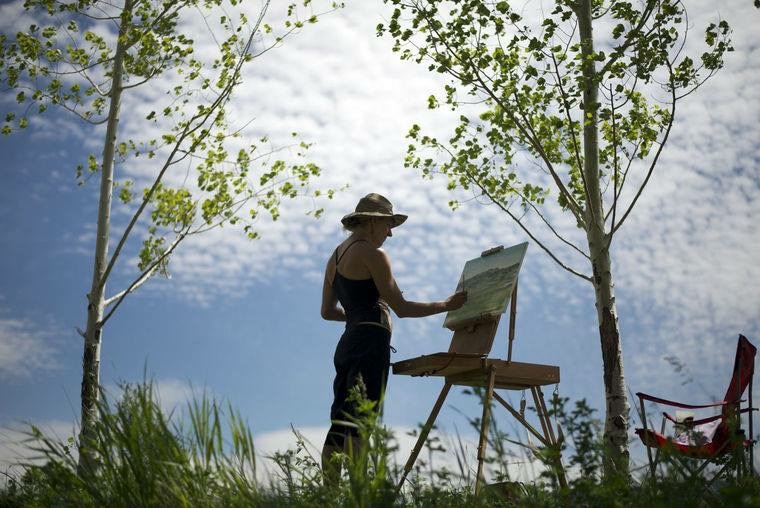 Award-winning artist, Emily Boespflug uses intense color and layers of soft brushwork to accentuate her subjects. She most recently worked as an administrator and teacher for a non-profit arts organization before making the transition into fine art. A Wyoming native, Emily is most inspired by the vast, diverse spaces she finds herself among, striving to preserve this spirit and energy in her work.
Upon receiving her BFA Emily combined her love for the healing arts and teaching in a 2-year art therapy internship with the School of Nursing while continuing baccalaureate work focused in painting. With intent of becoming an art therapist she continued working with children in Florida, where she set off to learn to hang glide at the 'exotic' Wallaby Ranch. During this time she studied faux painting and mural techniques under Lori Sanchez before painting a series of murals in private and model homes in the Disney area. To avoid the summer heat she would travel to various flying sites, painting along the way, then sell her work directly from her vehicle before moving onto the next location. 
Emily followed her heart back to Wyoming and found the Art Association of Jackson Hole in 2004 where she has enjoyed teaching and working with all ages and abilities in both classroom and therapeutic settings for the past 14 years. She never lost sight of being a professional artist herself, showing annually in solo exhibitions and continually developing a body of work to display at her favorite coffee shop, restaurant, or art fair. In 2017 she took the leap into being an artist full-time, teaching only part-time allowing her to full-fill commissions and sell her work privately.